DESCRIPTION AND USE


Microfiber Terry Cloth
Our high quality microfiber cleaning cloths make everyday cleaning tasks easy, efficient, & effective. Our below selection features a variety of terry style cloths.Microfiber Terry Cloths make for great all-purpose cloths and work great wet or dry. That's because the long looped ends make them soft, plush, and absorbent. Use any of the below microfiber cloths for cleaning, dusting, drying, and polishing on any surface.Our best Microfiber Terry Cloth made with professional cleaners in mind, so we've ensured they are softer, thicker, more absorbent, and longer lasting then your average microfiber cloths. Because of this, there are literally hundreds of uses for these microfiber cloths for your home or cleaning business.
Microfiber warp-knitted towel
Material: 80% polyester, 20% polyamide
Size/ Dimensions: according to customers' requirements
Weight: 200-400gsm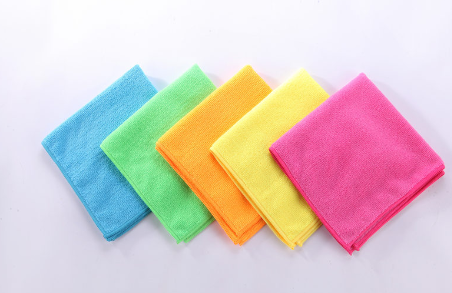 Our Microfiber Terry Cloth for cleaning is the most common and versatile type of microfiber cleaning material. It has a medium pile on both sides and can be used effectively wet or dry. The Microfiber Terry Cloth's high absorbency makes it ideal for damp cleaning use, or drying damp surfaces. It scrubs, it dusts, it shines, it absorbs; it does just about everything you would need.Microfiber terry towels are available in various weights.The lower weight terry cloth cleaning towels have a lower pile and absorb less, while the higher weight towels have a higher pile and absorb more. Lighter weight microfiber terry cloth towels are more aggressive while the higher weight cleaning towels are softer and more gentle.
Looking for value-priced, soft, durable, lightweight, edgeless all-purpose terry microfiber towel? Then you've come to the right place! With an endless amount of different uses, The Jiuyuan Textile Group's Microfiber Terry Cloths are the first choice for cleaning, scrubbing, dusting, mopping, drying, detailing, and wiping just about anything, anywhere, anytime you need dust, dirt, and germs Eliminated. If you are looking to buy microfiber cleaning cloths in bulk.Welcome to Contact Us.

(1) The towel have super water absorbency and soft hand touch.
(2) The towel is very durable and easy to wash without detergent.
(3) It contains no chemicals and it has no bad odors.
(4) You can clean all the surface of car,furniture,door,window,desk,glass etc.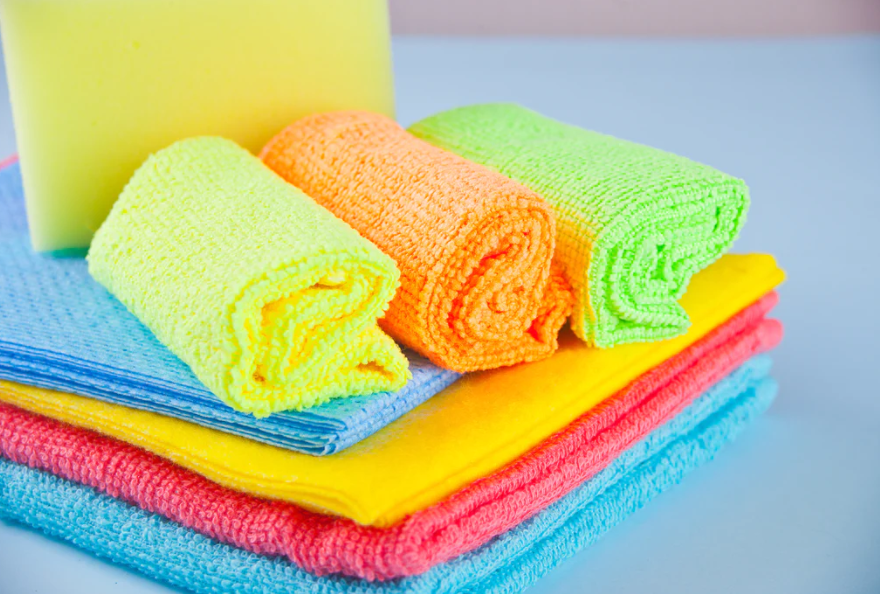 Benefits Of Microfiber Terry Cloth:
Like terry cloth, it is gentle when used to wash your vehicle. You can use it on tough mud splashes and stains.




The small fibers can remove bacteria without chemical cleaning agents.




You can use it for eco-friendly, waterless washing.




You can use it dry on delicate or refined reflective surfaces such as metal, mirrors and treated wood.


Terry Cloth VS Microfiber Towels


What Is Terry Cloth?
Terry cloth is a very absorbent type of cotton made on a special loom. The loops in terry fabric are designed to pull in water. It is almost always made entirely from cotton, though occasionally polyester supplements the material. Manufacturers make terry towels, bathrobes, sweatsuits and sweatbands from terry cloth.


What Is Microfiber?
While terry cloth is typically made with natural ingredients, microfiber is composed of synthetic materials formed into ultra-fine fibers. Each fiber is tiny — less than half the width of a human hair and even smaller than silk fibers. Microfiber's absorbent properties are valuable for drying and quickly wiping away spills. It expands from its original size as it absorbs water. Car washes and other businesses that clean and dry as part of their trade commonly use microfiber towels.
Waiters may carry microfiber towels to clean up spilled drinks. Hotels can deploy them to address big water spills speedily. Thanks to their high absorbency, microfiber towels are a popular choice for cleaning.


Is Microfiber the Same as Terry Cloth?
These two materials are not the same, and you should employ them for different tasks at your business. While both are absorbent, they have different appearances and textures, and you may want to decide on a case-by-case basis which works best for your business. Ask yourself these questions while making your decision:
Will the customers use the towel? Terry cloth towels appear plush and inviting, and they work best as bath and beach towels.
Will you use the towel to clean up spills you need to disappear quickly and quietly? In addition to their impressive absorbency, microfiber towels are adept at sweeping up other residues.
Are you concerned about the environment? You don't usually need a chemical spray when you use microfiber towels because the fiber picks up dry dirt naturally. You can also use less water thanks to its absorbency.
Wholesale pricing to save you big on time and price. Order your Microfiber Terry Cloths online today.